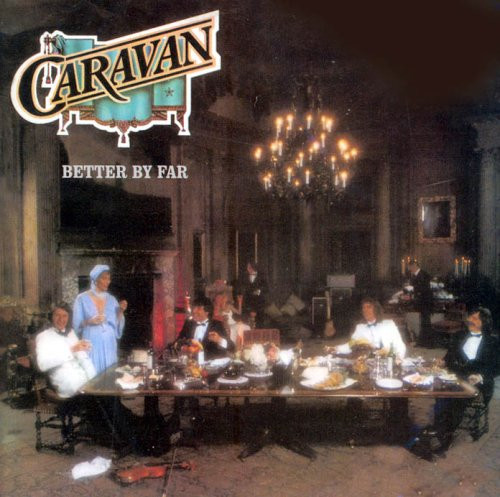 Better by far
(Arista 1977)
Feelin' alright
Behind you
Better by far
Silver strings
The last unicorn
Give me more
Man in a car
Let it shine
Nightmare
Would you believe me if I told you that our supposedly washed-out heroes from Canterbury actually managed to squeeze out one of the best pop records of 1977, of all years? Well, maybe you would and you should too, because despite what the critics or the chart statistics or the nerds at Progarchives will tell you, "Better by far" surely is better by far. Just like on "Blind dog", all of the tracks are relatively short but I dare say that this time around they are also diverse and built upon simple but catchy melodies which will stay with you a long time after you turn it off.
If anyone's interested I can start with telling you that Mike Wedgewood was replaced by Dek Messecar on bass guitar, which may or may not have a part in the fact that the funk'n soul elements present on here are nowhere near as obnoxious or good-for-nothing as on "Blind dog" or "Gunning c u n t s". No wait, get outta here, Ted Nugent! Because essentially, the word of the day is power pop of the kind Big Star and Badfinger popularized (and that Beatles, Kinks and Byrds originated) and it kicks you right between the eyes from the very beginning. "Feelin' alright" sounds like a bona fide McCartney-penned Beatles tune circa 1965 and drags you with it in its truly uplifting catchiness and sets the tone for the whole record which rarely lets down this magnificent opening even a single bit on its way. "Behind you" showcases Caravan as fully capable of adopting a barroom rocker to their own harmful setting, and I can't help but sense a striking resemblance to whatever hard rock bands like UFO or Whitesnake did around this time. Of course, Caravan wouldn't touch metal with a ten foot stick but the vibe is there, man! The vibe is there! Not a highlight though, but essentially they pull it off.
The lighter side of things are represented by the title track with a really pretty guitar line and the song itself could be seen as succeeding where "Lover" failed. Not overblown by some uncalled for soul gymnastics, just a mellow and humble ballad distinguished by said guitar melody. Even better in that respect is the folksy Kinks-like "Give me more", greeting us with a neat whistling synth melody setting the scene in which Pye encounters a whore and proceeds to abuse her with certain bondage devices. Oh yes, you thought he had reached the limits of decency with that dog that was at it again four years ago? Forget that! His eagerness to show off his gigolo skills has only increased over time. I wonder if we're supposed to draw any conclusions from the album cover? Or the orgasmic wailings of Vicki Brown in the chorus? Whatever may be, it's still a nice song. As is the closing epic "Nightmare" that somewhat presages the lush symphonic indierock sound that Mercury Rev and Flaming Lips successfully would adopt in the 90's. I could easily see those fragile vocal deliveries performed by Wayne Coyne. And "Let it shine" which precedes it is yet another Beatlish pop tune, spiced with a Harrison-like guitar line that enhances its already sunshiny atmosphere.
In the midst of it all we also have the strange funk sendup "Silver strings" that is done completely Bowie-style, which may be a result of the record being produced by Tony Visconti. The drums sound almost pre-programmed in the trademark 'Berlin' kind of way and the bass line is weirdly deconstructed, and over it all we have a minimalistic guitar pattern that wouldn't sound out of place on "Heroes" or "Low". And what about the Traffic-meets-Supertramp, although less bloated, "Man in a car", with its crawling pace and hazy psychedelic vocals? Man, this is one mixed bag! But I consciously saved the best for last in this review. Apparently, Caravan felt they had to reconnect with their roots somehow and decided to throw in an instrumental and slightly updated Canterbury tribute, and to pay their respect to the queer community, dub it "The last unicorn" (ok, that last part may be subject for speculation). And might I say, it ends up being their best instrumental number ever, as well as one of their best songs altogether! It's simply breathtaking from beginning to end, starting with some gently strummed chords and Richardson's contemplating viola (he is the author of the piece, by the way), leading into a beautiful synth/recorder break that out-Camels Camel in just a few seconds. And then it throws itself headfirst into a rapid jazz-rock fiesta a'la National Health/Hatfield & The North, where Pye fires off what must be his finest guitar solo ever. Then everything settles down into the opening chords over which a tear-jerking flute waves goodbye. I dare say that this is the single best song of 1977, even with albums like "Going for the one" being in the competition, and that says a lot! Its only flaw is that it's too short. I would want it to go on for ten minutes or so, but then again, maybe not. The best songs always leave you craving for more, right? A prog masterpiece in pocket format, hands down!
So it turns out that Caravan really was a force to reckon with after all, even in the darkest depths of prog degeneration towards the end of the decade, which some of the other giants couldn't even handle. That speaks tons of their endurance and creativity, and not least of how they successfully managed to transform into a pop act instead of trying to force upon themselves some prog formula just for the sake of it. But on the other hand, they always had it in them, didn't they?